12:44 pm
[i_scribble]

Greetings and salutations!
(cross-posted to
dachshund_uk
,
dachshundlovers
,
dachshunds
,
doxielove
,
ilovemydoxie
,
mass_doxies
,
note_to_doxie
,
sausage_dogs_au
&
weinerdogarmy
. Whew!)
Hello, everyone--
First, if it isn't immediately obvious, I have just joined (and am posting) to every LJ community I could find under the "dachshund" interest category that was clearly "doxie-only". If this post doesn't meet the criteria for the community (I think I'm OK), please let me know and I will delete it.
Having said that...
I am the pending doxie owner of Willie the Hypothetical Dog™. Perhaps I should explain.
We do not in fact have a dachshund yet. My husband and I plan to adopt a doxie from one of the local or national doxie/canine rescue groups, probably some time in January. Interestingly enough, this dachshund we do not have yet already has a name (Willie, regardless of gender) and a theme song (somewhat of a work in progress). And a chew toy. And a product line (more about that later).
This is my first doxie and my husband's "second" doxie (his first was when he was five). We have both had dogs of other breeds before. I have done an incredible amount of research on doxies, so I think I'm prepared in a general way for the idiosyncrasies of this breed. We live in the northern Virginia area (just a bit outside of the Washington DC beltway in the United States). So here are my questions, and I will bask in your combined knowledge and advice. Thanks in advance!
For those who have rescued doxies, what group did you use, and why?

What sort of home preparation did you do for your doxie?

How bad are stairs, really? (Our house has three floors.)

Do people have recommendations for food, harnesses, leashes, etc?

Crate training-- how necessary is it? (My husband and I both work, but we live about 5-7 minutes from our house.)

A doggie door-- how necessary is it?

Any recommendations on training methods?

Will a single doxie be OK by itself, or should we look into getting a companion right away?

How many people out there are from the greater DC area? If you're from there, would you be interested in an LJ community specific for that area?
(
Now, cut so people can bypass it if they wish, questions about my shameless promotion of Willie.
Collapse
)
So thank you all for your time, and I hope I can get some really useful advice from people. I've read posts in the communities, and I'm really excited to be here.
12:07 pm
[sausagesstuff]

Dachshunds Downunder?
Hello Wiener lovers!
We're looking for a friend for Sausage but haven't had any luck locating Dachshund breeders in Australia. Preferably we would like to find one in South Australia (or Victoria).
We're looking for a standard, smooth haired black and tan or chocolate and tan dachshund (male or female). I realise it's a long shot but I thought that someone here might be able to point us in the right direction or know of a litter coming up?
Also, does anyone have know how mini and standards get along together? We would get Sausage a mini but he's really big (around 13kg) and I'm worried that he might break a mini!
Any help would be much appreciated!
XO
Current Mood:
busy
6:08 am
[rhapsodical78]

Australian Dog Community.
Heya. Just found this community. Sausage dogs are majorly cute.
If you guys are interested in joining a general dog community for Australians please feel free to join
dogs_australia
Cheers.
Naomi.
9:50 am
[hespera]

Cute weiner website
I just found the best web site and i thought i would share it with other Doxie lovers too.
THE ORIGINAL FUNK AND WAGTAILS DACHSIONARY
X-posted.
Current Mood:
happy
11:07 pm
[hespera]

"Is Love Banner"
I just spent the last hour or more making a banner with pictures of Kiki in it! I've been wanting to make one of these banners for ages but i didn't know how to. So i had a look around livejournal and found a tutorial for a different image program and adapted it so i could use it on the program i have. The finished product looks pretty cool to me. I think i'm going to be making some more in the future.
x-posted

Kiki is love.
By-
hespera
Current Mood:
productive
4:34 pm
[hespera]

Puppy Pictures
I got a little snap happy on the weekend and took some photos of Kiki. she's such an active dog and it's often next to impossible to get her to stay still long enough to get a photo! As soon as a crouch down to get a good shot she runs over to me and jumps about like a rabbit. But i managed to get some good photos of her. It's amazing how much she grows every day. I've been looking through pictures from when she was 7 weeks old and she's just so much bigger. She was the runt of the litter and her 3 brothers were and still are much bigger than her but she likes to think she's 10 foot tall and bullet proof.
(
So here's the pictures!
Collapse
)
Current Mood:
creative
5:46 pm
[frozenwithin]

Willow & Shandie...
Updated pics of my Snag-Dog
Willow
, LOL
She's the long hair standard on the left with my Mother's short hair mini [Shandie] on the right.
[click to enlarge]


My snag and I reside on the border of NSW/Vic.
Current Mood:
sick
1:58 pm
[pixie_doolittle]

Introduction
I thought i'd share some pictures of my two dachshunds. Oscar (yellow collar) is about 18 months old, and Misia is just over 2 years old.
We live in Canberra.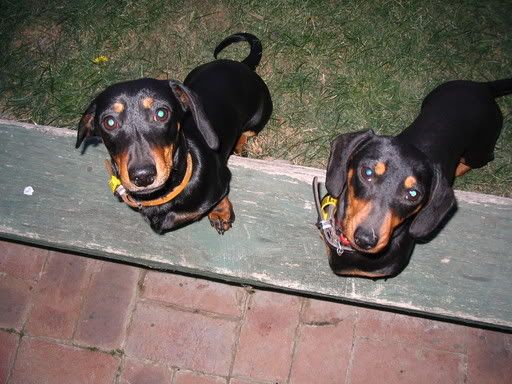 (
two more pics
Collapse
)